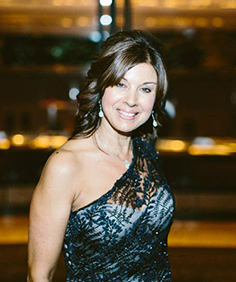 "I believe that the creation of a couture gown involves passion and the love of beauty. It is taking luxurious material and wrapping it with elegance and precision around the female form. I believe, most of all, creating a couture gown means creating a wearable piece of art." – Connie Simonetti.
As an artist inspired by the old masters of couture, Connie Simonetti is captivated by designing glamorous couture pieces that reflect each bride's personality and style. Connie's touch of elegance and sophistication is evident in the draping of the material and in every detail of the design.
Connie works one on one with each individual bride using the finest opulent silks, Italian and French laces combined with Swarovski crystals to embellish the gowns. Connie ensures specific attention to detail with a number of consultations, fittings and countless hours of hand making and beading. Each creation is treated as a masterpiece using unique couture techniques when wrapping and draping the material in order to shape and accentuate the bride's figure for an exceptionally feminine appearance.
Since establishing her boutique fashion house in 1987, Connie is recognised as one of Australia's leading designers. Her exclusive designs exude beauty and luminous sensuality with engaging glamour. Her gowns are only completed when worn by fashion conscious brides who love the luxury of couture.
For a timeless creation by Connie you must allow six to eight months prior to your wedding day.
When wearing a Connie Simonetti gown you will exert an unforgettable and glamorous statement that will be remembered for decades to come.